The inaugural cricket World Cup in 1975 produced several moments and anecdotes to cherish among the participants which happened to be some of the greatest names in the game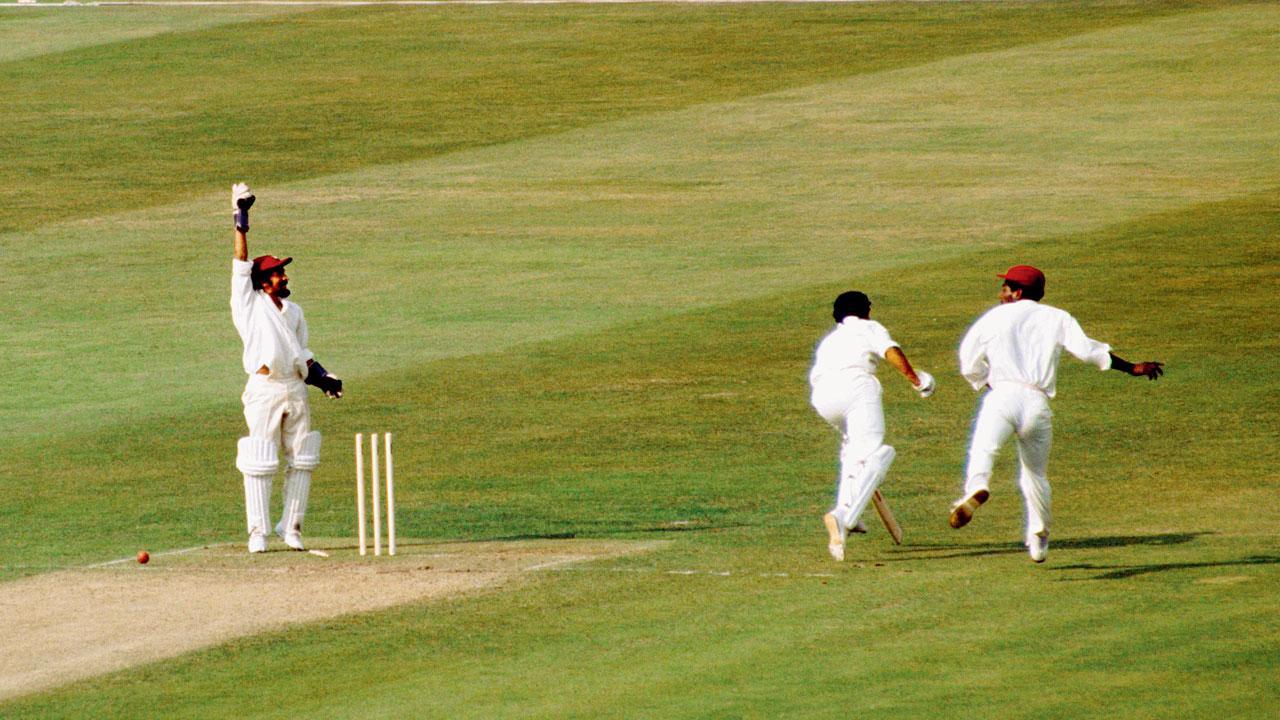 West Indies wicketkeeper Deryck Murray (left) exults as Viv Richards (right) effects the first of his three run outs to send back Australia opener Alan Turner in the 1975 World Cup final at Lord's on June 21. Pic/Getty Images
By the way, it was called the Prudential Cup—International Championship of Cricket
Australia's Ian and Greg Chappell and Pakistan's Mushtaq and Sadiq Mohammad
The large gathering of cricketers living in a common base led to friendships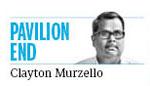 If a cricket junkie was asked to choose a hotel to stay in during a high-profile competition in the 1970s, it would have to be the Kensington Close near Kensington High Street in London.
That's where all eight teams were housed for the inaugural World Cup, before dispersing for their games in different counties.
ADVERTISEMENT
By the way, it was called the Prudential Cup—International Championship of Cricket. No where was 'World' mentioned.
Most critics lapped up the novelty aspect, while English journalist Alex Bannister came up with interesting observations in an article previewing 'Cricket's Great Adventure.' 
Bannister wrote in Sportsweek: "There is a South African playing for England [Tony Greig]; odd to reflect that cricket's first international tournament springs indirectly from the quarrel over apartheid."
Bannister elaborated on the composition of the teams—"two teenagers on leave from school in Karachi and Colombo, two 42-year-olds from East Africa."
He cited New Zealand's two sets of brothers—the Hadlees and Howarths, Australia's Ian and Greg Chappell and Pakistan's Mushtaq and Sadiq Mohammad.
The large gathering of cricketers living in a common base led to friendships. Australia captain Ian Chappell learnt about his teammate Doug Walters and East Africa's Don Pringle (father of England cricketer-turned-writer Derek) discovering that both of them enjoyed drinking late into the night together and staying around till closing time. Sadly, Don passed away later that year in a car accident back home in Nairobi.
Ex-India all-rounder Karsan Ghavri told me on Tuesday that the 1975 World Cup helped him forge long-time friendships with Aussie pace ace Jeff Thomson, Pakistani Wasim Raja and East Africa's then captain Harilal Shah (both deceased).
What's an event without its share of controversy. At the start of the tournament, Sunil Gavaskar's unbeaten 36 in 174 balls against England at Lord's frustrated fans and pundits. 
"To many in the good-sized crowd it may have seemed as though no one had told Venkataraghavan [captain] and his team that this was a one-day competition," wrote celebrated writer John Woodcock.
In India's next game against East Africa at Leeds, wicketkeeper-batsman Farokh Engineer and all-rounder S Abid Ali got into an argument on the field, and the fight spilled over to the dressing room during the break. One team member told me that both players threw things at each other and an object hit a water jug; the splash of liquids messing up manager GS Ramchand's beloved suit. Meanwhile, Gavaskar described the face-off in his book Sunny Days as "more like a bout between Muhammad Ali and Joe Frazier, the difference being that both threatened each other with bats."
The visit to Buckingham Palace on June 6 too helped the teams indulge in some bonding.
Australian captain Ian Chappell said he got to know Bishan Singh Bedi better and went out with him for curries. Chappell also remembered an Indian businessman meeting him and Bedi, to tell them about a series he had planned which wouldn't interfere with the international calendar. Little did they know then that a businessman by the name of Kerry Packer would helm a rebel series which would clash with the traditional schedule in a couple of years' time. 
Administrators of that era in particular were known to be stingy when it came to extending privileges to players. However, all teams were permitted to stay on for the full duration of the tournament, irrespective of which stage they were knocked out. Talking about getting knocked out: Sri Lankan great Duleep Mendis learnt what it felt like to be a victim of Australian Jeff Thomson's thunderbolts. He was stretchered off the ground after Thomson struck him on the forehead in their June 11 game at the Oval in London. Mendis, who had to be admitted to hospital, told Sri Lankan journalist Rex Clementine many years later that a policeman dropped by his hospital room and asked if he wanted to press charges against a certain Jeff Thomson.
Mendis, who went on to become Sri Lanka's long-serving captain, declined the "offer" and emphasised to the policeman that it's only a game of cricket.
The well-contested Australia v West Indies final ended at 8.42 pm; "in bright sunshine," according to encyclopaedic West Indian broadcaster-writer Tony Cozier in his 1976 annual. And while the joyous West Indians sprinted to the Lord's pavilion, someone in the crowd pinched umpire Dickie Bird's white cap. A few days later, Bird was travelling in a red London bus and discovered a West Indian conductor adorning a white cap very similar to his. When Bird asked him where he got it, the conductor proudly declared, "It was from Dickie Bird, the Test umpire." The famous Yorkshireman wrote in Cricketing Memories, a book published in 1987, that he dropped the idea of reclaiming the cap once he discovered that the conductor failed to recognise him. Talking about recognising famous figures, Aunshuman Gaekwad and Ghavri found themselves trying hard to avoid talking to an old English gentleman who kept asking them questions during a cocktail party at Lord's. They only realised that the gentleman was a cricketing great when teammate Gundappa Viswanath joined them and was greeted by Sir Len Hutton warmly. 
The 1975 World Cup got the largest congregation in the cricketing world together.
After hearing accounts over the years from numerous participating players, I'm inclined to believe that one-day cricket's first big gig produced more unusual stories and anecdotes than any of the remaining 11 editions.
That said, here's hoping next month's extravaganza in India will be a much-cherished and fabled one.
mid-day's group sports editor Clayton Murzello is a purist with an open stance.
He tweets @ClaytonMurzello. Send your feedback to mailbag@mid-day.com
The views expressed in this column are the individual's and don't represent those of the paper.
"Exciting news! Mid-day is now on WhatsApp Channels
Subscribe today by clicking the link and stay updated with the latest news!"
Click here!