"Saala this BMW tried to dabao me, main unko ek solid bump diya!," Mazhar announced triumphantly, as he swung into the yard.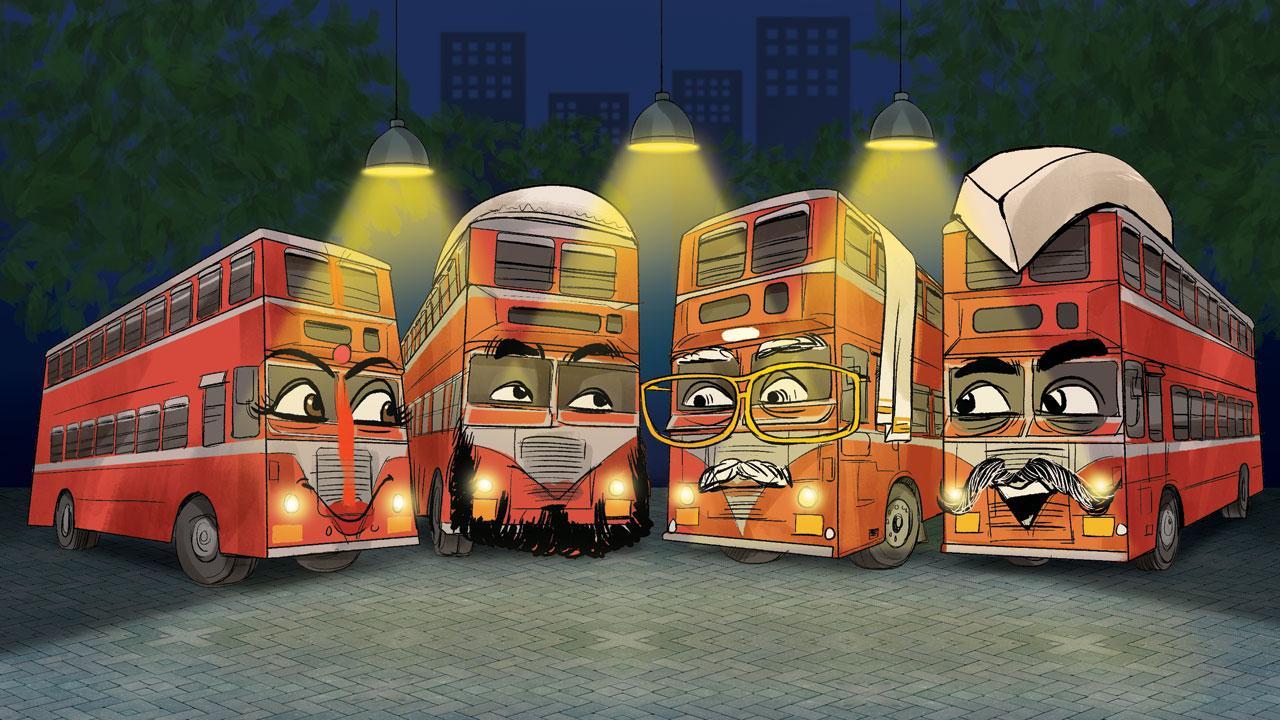 Illustration/Uday Mohite
The men exchanged sheepish glances.
Mahesh Chouhan was also super irritated
Doiphode said, "Life has to move on... our time is over, apna time khatam."

The bus station was dark, they waited for Mazhar who was late as usual, something stressful always seemed to delay him.
"Saala this BMW tried to dabao me, main unko ek solid bump diya!," Mazhar announced triumphantly, as he swung into the yard.
ADVERTISEMENT
"Chhote Miyan… aaram se, bhai, aaram se, itna dadagiri kyo dikhate ho? Yeh hamara aakhri raat hai," Pandurang Doiphode, the oldest of them said to Mazhar. 
Mazhar Sharif aka Mad Max, known for his imposing presence and violet temper, was a battered wreck, every part of him was dented, a broken tail light hadn't been fixed in 10 years.
Mahesh Chouhan was also super irritated. "Saala Saat Raasta has become ek raasta, jagah nahin hai to move, how Mumbai people drive these days; poora rough-tough, aada beeda… and this sadela 'bhopu' horn… sounds like a donkey from my papa's farm in Indore."
The most sardonic of them, Sukumar Swamy, reading the papers, let out a loud sarcastic laugh, "People, you've read this… apna Bus ka Boss has announced a heritage bus route—RC Church se Tardeo depot tak—badiya scenic journey, he is promising, via lovely Marine Drive! What scenic route, I ask saar? Fust thing is you cannot see the sea anymore… one side coastal road is happening, other right hand side, Metro kaam is underway for last three years. Nariman Point to Chowpatty is like one steeplechase race… Queen's Necklace... the necklace is broken, only."
As the five of them settled down to ponder their future, they realised deep in their engines, no one was addressing the elephant in the room—their mortality, their life after years of being one the city's lifelines—Savitri Pednekar, the only lady among them, said with a touch of reprimand, "Arre you men, typical Indian males, unable to address issues directly... we've been forcibly retired, samjhe, retired, nobody wants us anymore! They don't feel we're fit or equipped to be driven anymore—How do we feel about this, why is no one talking about it, bolo?" she demanded.
The men exchanged sheepish glances.
A sense of foreboding had descended on this their last night—Mazhar realised, that his anger, vented on pedestrians, passersby, other vehicles, was mis-directed. Doiphode, older, wiser, sadder, looking at life with a sense of philosophical acceptance, couldn't disregard the bed of betrayal he was feeling, 50 years of loyalty, seemed to have meant nothing.
Yesterday, had been a shocker; they had all returned to the bus station, to find an array of the spanking new AC e-buses, parked in their places. No one had told them officially that they were being discontinued, sure there were whispers in corridors, gossip, hearsay. It was the Indian way, to give no warning, no golden handshake, no graciousness, no recognition for the years of service to the city, air-conditioned automation was the way forward. And the condescension that this fleet of newbies had shown them, preening and showing off their 'bells and whistles'. 
"I expect nothing from the authorities," Suku said, ironically, "my chacha Bhaskar you remember him na... the kaala-peeli taxi, he was stopped from working with 24-hour-notice, as a retirement gift they gave him a box of stale pedas!"
Doiphode said, "Life has to move on... our time is over, apna time khatam."
"Yaar Pandu chacha, stop being so philosophical always!?" Mad Max Mazhar snapped.
"Oi Chotte Miya, don't take your anger out on him! Show some respect ya," Savitri said.
"Kya plan hai tera, Doiphode," Suku asked.
"I believe they are sending me to that museum… Sion mein… bacche aayenge… they will sit inside, climb to the upper deck, ring the 'ghanti'. Mujhe company milega."
"Aur tera, Mazhar Bhai?" Mahesh asked.
"Boss, main set hoon, I and my other bus doston, from Dongri, Bhuleshawar, Girgaum, we are starting these races, raat ko… Reclamation se Badlapur tak no brakes, only clutch!"
Savitri Pednekar, looked at this mix of weather beaten, battle scared men; men who'd sweated for the city, given their all, protected her over the years. She said, "I wait for the day, when a law is passed… 33 per cent of all buses will be women. Women are after all the BEST right?"
All the men were silent in their agreement.
Rahul daCunha is an adman, theatre director/playwright, photographer and traveller. Reach him at rahul.dacunha@mid-day.com
"Exciting news! Mid-day is now on WhatsApp Channels
Subscribe today by clicking the link and stay updated with the latest news!"
Click here!