Twenty years ago on this day, India lost the 2003 World Cup final to Australia in Johannesburg. The defeat notwithstanding, what shouldn't be forgotten is how the team picked themselves up from their early troubles in the tournament to get to where they reached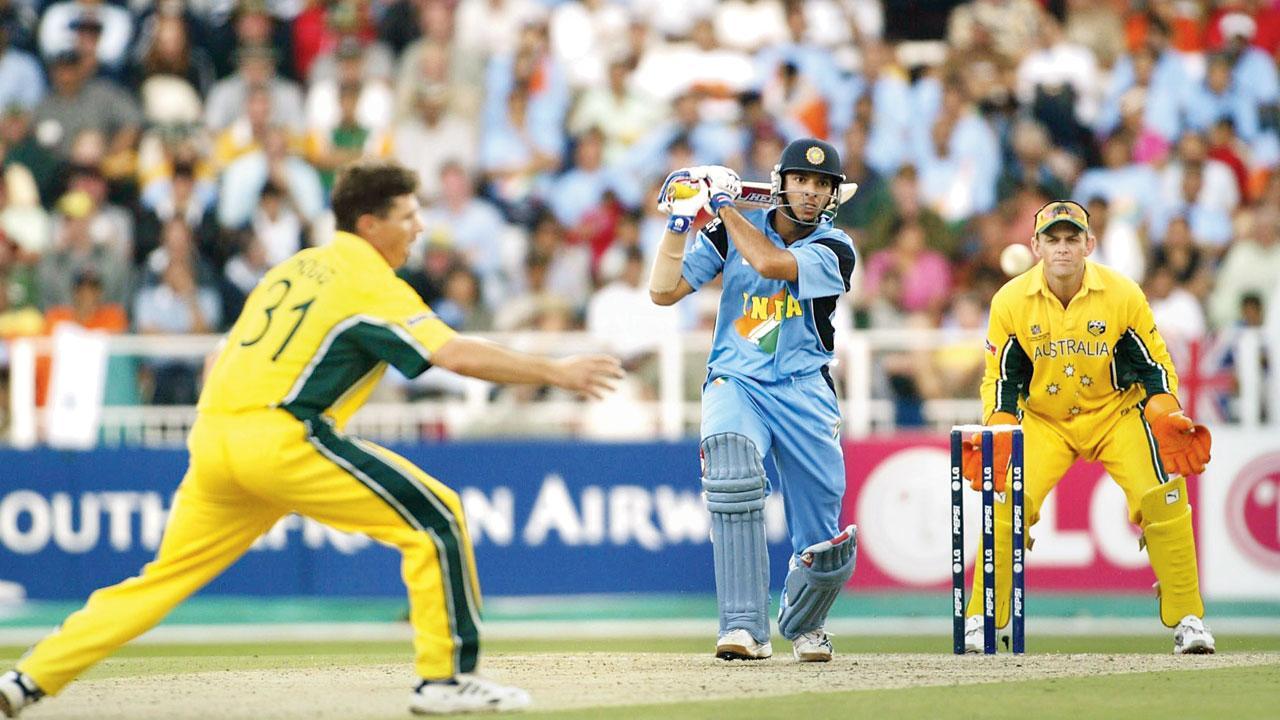 India's Yuvraj Singh tackles Australian spinner Brad Hogg during the ICC World Cup final at The Wanderers in Johannesburg on March 23, 2003. Pic/Getty Images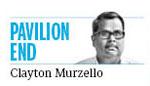 While June 25, 1983 and April 2, 2011 are matchless when it comes to red-lettered days in Indian ODI cricket, March 23, 2003 shouldn't pale into insignificance too much albeit India ending up on the losing side as against the first two mentioned finals.
It's 20 years today since India figured in their second World Cup final since that glorious one at Lord's in 1983. There is no instrument to measure determination, but that side led by Sourav Ganguly, had plenty of it. They were out to prove their critics wrong, especially the ones who wrote them off after a nine-wicket loss to Australia at Centurion in their second match of the tournament, which came after a scratchy win over the Netherlands at Paarl.
ADVERTISEMENT
The team faced some serious criticism and public ire, which resulted in damage to Mohammed Kaif's home in Allahabad.
Sachin Tendulkar had to make a statement before the third game against Zimbabwe at Harare to help calm things down at home. Ganguly didn't shy away from the hard talk after the loss to Australia. "We have had team talks, but what we have to do now is to go back to our rooms and think as to how we can improve our cricket," he said.
Also Read: Hello, long time no 'C'
India didn't lose a game in the tournament after that defeat till the final, which Australia won by 125 runs.
Victories over Zimbabwe, Namibia, England, Pakistan, Kenya, Sri Lanka and New Zealand were meritorious.
The game I thought the Indians would find hard was against New Zealand at Centurion. India had lost an ODI series 2-5 in New Zealand before landing in South Africa but at the World Cup, the Kiwis were beaten by seven wickets.
Kenya were India's opponents in the semi-finals at Durban and I remember ex-BCCI chief Raj Singh Dungarpur jokingly pleading with Kenya coach Sandeep Patil at the teams' hotel lobby in Durban not to upset India's World Cup.
Skipper Ganguly helped himself to his third century of the tournament and India had an easy passage to the grand final through a 91-run win over the Kenyans.
Amidst the opinions floating around about what would happen in the final, a fan came up with an interesting prediction while giving me a lift from Johannesburg airport.
He said that it was the turn of a left-handed batsman-captain to lift the cup. He reminded me that southpaw Clive Lloyd claimed the first two World Cups followed by right-handed Kapil Dev lifting it in 1983. 
The 1987 silverware went to left-handed Allan Border and the next one to right-hander Imran Khan. In 1996, left-handed Arjuna Ranatunga lifted the trophy and right-handed Steve Waugh claimed the ultimate honours in 1999. So, it would be Ganguly, the left-hander this time.
Meanwhile, Ganguly spoke about how the team felt before the final: "It is better to be relaxed. We've done the things we had to do right through this tournament be it in the nets, fielding, volleyball... everything."
He won the toss at Johannesburg and put Australia in, hoping his pacemen would put the overcast conditions to good use. But as Wisden of 2003 put it, "Australia saved their most ruthless, clinical and complete performance for the biggest stage of all."
Skipper Ricky Ponting at one-drop played an innings for the one-day Gods after openers Matthew Hayden and Adam Gilchrist put on 105. The duo made the first over of the game memorable for them by clubbing Zaheer for 15 runs. Ponting led the way in terms of quantum of runs (140 not out) and displayed dominance in its truest sense, but Damien Martyn (88 not out) was equally indestructible. If his skipper was in prime physical condition, Martyn was not; playing with a broken finger.
Australia's 359-2 (both wickets claimed by Harbhajan Singh) was the highest score in a World Cup final. India's dream of achieving another World Cup appeared destroyed even before Tendulkar and Virender Sehwag walked out to bat.
Glenn McGrath, just like he had done in the 1999 World Cup game against India, sent Tendulkar back early. The Indian supporters went into mute mode. In the press box, our hearts sunk. Sehwag top-scored with 82 and the next best was Dravid's 47. Ganguly and Yuvraj Singh scored 24 each. A 125-run loss; what a massive off day!  Many believed that it would have been a different story had India batted first.
Ponting reckoned India's body language wasn't impressive in the final, but credited them for playing some "sensational cricket" in the tournament.
Team India would have been devastated, not merely by the loss but the extent of damage Australia inflicted on them. I saw coach John Wright walking at the Sandton Sun hotel that evening and I just couldn't muster up enough courage to go near him.
It was the same man who fumed after the team lost one of their warm-up matches before the first game against the Netherlands. "You can't publicly defend this sort of a performance. This is unacceptable," he had told me. But Wright and the team could feel proud of what they had done after that loss to KwaZulu-Natal on February 6.
A month after the World Cup final I asked Tendulkar about the mood in the camp post the final loss to Australia and if there were tears. "Yes. It was quite bad," he said, adding, "But we got together and congratulated each other. 'Well tried' we told each other. After all, it was a great turnaround after that second game. We felt we had given a 100 per cent every ball. Nobody felt in the end that they did not try hard enough."
And that's why March 23, 2003 should be a date to remember.
mid-day's group sports editor Clayton Murzello is a purist with an open stance.
He tweets @ClaytonMurzello. Send your feedback to mailbag@mid-day.com
The views expressed in this column are the individual's and don't represent those of the paper.