On Holi, during the day, people celebrate with colours and in the evening, they show love, respect, and gratitude towards their close ones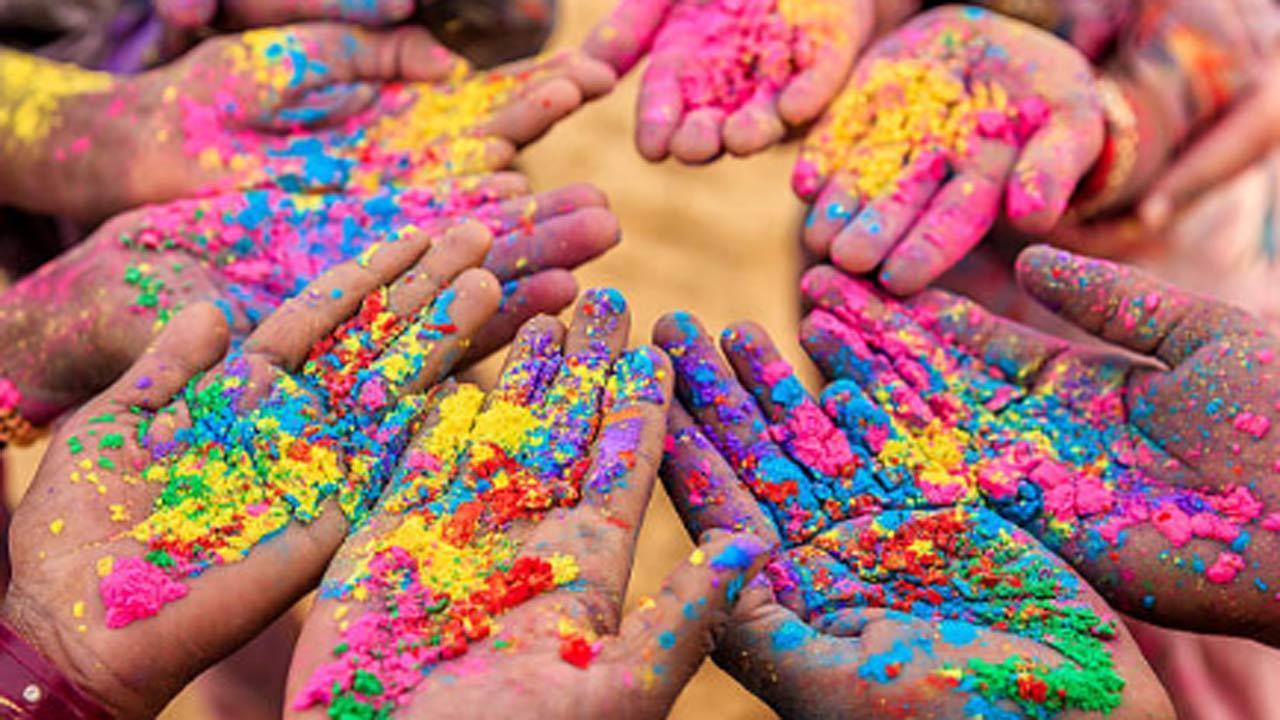 Barsana is another place which you can add to your list of destinations to witness the grand celebrations of Holi. Image for representational purpose only. Photo Courtesy: istock
In India, different festivals are celebrated in a variety of ways due to diverse cultural traditions and they are incomplete without food and arts and culture. 
As all Holi enthusiasts have started their preparations for celebrating the festival, this year it will be observed on March 8. The festival begins on the evening of Purnima (full moon day) in the month of Falgun. Holi is also celebrated as a 'spring festival' in different parts of India.
ADVERTISEMENT
With one of the most vibrant festivals in India fast approaching, an atmosphere of excitement can be perceived all around. In mythology, the festival is celebrated as 'Holika Dahan' or 'Choti Holi' on the first evening, followed by a grand celebration on the next day. It is a day worth spending with your friends and family.
On Holi, during the day, people celebrate with colours and in the evening, they show love, respect, and gratitude towards their close ones.
The ritual for Holi involves lighting up a bonfire one day before Holi as it signifies the victory of 'good over evil'. People also consider this a 'goodbye' to winter days and a welcome to summer.
Story behind the Holi festival
In Hindu mythology, Holi is best known as the killing of 'Holika'. Mythology states that when Prahalad refused to accept the orders of his father Hiranyakashyapu and kept praying for Lord Vishnu, Hiranyakashyapu took the help of her sister, Holika to kill him. Holika took Prahalad in her lap and sat in a bonfire as she had immunity to fire. Even after that, she burned alive while Prahlad was unaffected. Hence, 'Holika Dahan' is celebrated a day before Holi.
Here are some of the popular places where you can visit before or during the Holi festival
Mathura
Mathura is very famous for Holi. People from all over the world visit Mathura to witness a grand celebration as the city is known to be the birthplace of Lord Krishna. People have a lot of fun playing with flowers and colours during the festival here, which lasts for 9 days. There, Holi is celebrated with a lot of dry colours, water balloons, and water guns. You would be glad to be a part of the grand celebrations around the 'Banke Bihari Temple' in Mathura.
Barsana
Barsana is another place which you can add to your list of destinations to witness the grand celebrations of Holi. The town of Barsana celebrates 'Lath Mar Holi', where women have a tradition of beating men with sticks while men protect themselves with shields. This can be quite interesting to witness.
Udaipur
Holi celebrations in Udaipur make the city look royal. People, including members of the royal family, wear traditional Rajasthani clothes and take turns around the bonfire. This signifies the triumph of 'good over evil'. There are traditional folk dances and folk songs followed by a lavish dinner and wonderful fireworks. There is no doubt that Udaipur is one of the most popular places to celebrate Holi in India.
Punjab
Holi in Punjab is very different from Holi in the entire country, which is celebrated by Sikhs in their own style. There, they call it 'Hola Mohalla'. Locals shout their hearts out as a tradition. On this day, they also show their martial arts, especially 'kushti', and celebrate with colours. Delicious halwas, puris, gujias, and malpuas are prepared and served to others. It is definitely one of the finest places to visit during Holi.
Other places
In West Bengal, Holi is celebrated as 'Dol Jatra' with singing and dancing. In South India, people worship the God of love, Kamadeva, on Holi. In Uttarakhand, Kumaoni Holi is celebrated with the singing of classical ragas. Meanwhile, in Bihar, people traditionally clean their houses and then attend the festival.
Holi is a time when Indian households make special sweets such as thandai, gujiya, malpua, and dahi vada. Hence, sweets are a vital part of this festival.
Holi Melas
Traditionally, Holi melas are held in villages with a strong sense of cultural and traditional values. People from different parts of the country come here to celebrate this colourful festival. Each stall has its own theme to represent its state. A variety of Holi sweets like gujiya and malpuas are available at the stalls that attract maximum attention, especially from kids.
So, if you want to experience the festive fervour of Holi in India then you must visit these places where a grand celebration can be witnessed. 

Also Read: Holi 2023: Tips on how to make your party an effortless hit
This story has been sourced from a third party syndicated feed, agencies. Mid-day accepts no responsibility or liability for its dependability, trustworthiness, reliability and data of the text. Mid-day management/mid-day.com reserves the sole right to alter, delete or remove (without notice) the content in its absolute discretion for any reason whatsoever
Are you worried about colours harming your skin or hair this Holi?