Does a minor shoulder or chest pain make you think you are getting a heart attack? The fear of heart attacks is common given the sudden rise in cases over the past few years. On World Heart Day 2023, health experts share ways to identify the difference between a heart attack and normal body pain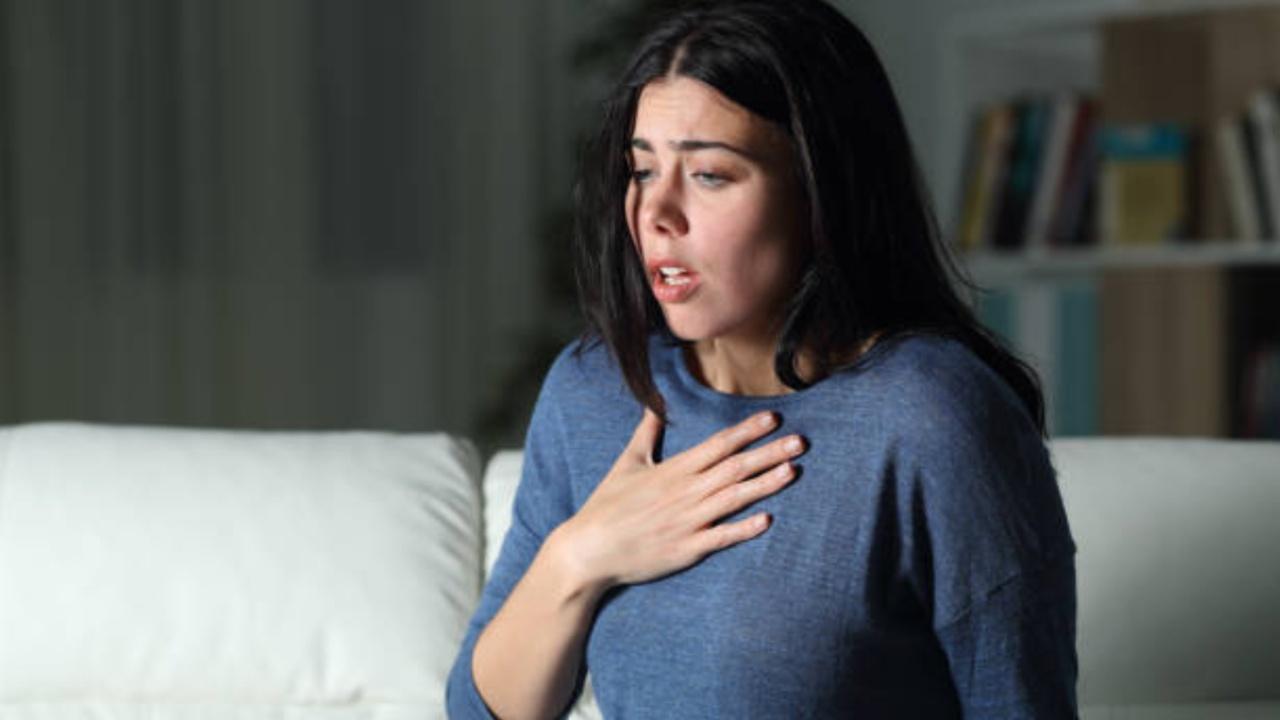 For those residing in a fast-paced city like Mumbai, the risk of heart attack is believed to be more due to faulty lifestyles. Photo Courtesy: iStock
We asked doctors how to deal with the fear of heart attacks
Dealing with the fear of heart attacks requires a balanced approach
For those residing in a fast-paced city like Mumbai, the risk of heart attack is high
Just a day back we came across yet another shocking news of a 19-year-old individual dying of a heart attack during garba practice in Gujarat's Jamnagar. Coming across such headlines every single day is only adding to our already existing fear of heart attacks.  
  
What's more, heart attacks while performing heavy physical activities like exercising, dancing or playing sports have become common leaving many scared of engaging in any physical activities. Now, even a minor shoulder pain that can arise from an uncomfortable sitting posture in the office or a chest burn that is commonly a result of acidity is instantly linked to a heart attack. So real is the fear, that our mind forces us to believe in the worst. 
  
While we all know the common causes of heart attacks, on World Heart Day 2023, we asked doctors how to deal with the fear of heart attacks and how to truly distinguish between an attack and normal body pains.  
  
Dealing with fear
Dealing with the fear of heart attacks requires a balanced approach. "Education is key," says Dr Sunil Wani, consultant, cardiology, Kokilaben Dhirubhai Ambani Hospital, Mumbai. The fear of heart attacks is often associated with panic and anxiety which worsens the situation and comes in the way of pragmatic decision-making.  
  
Wani urges all, especially the young, to educate themselves about heart health and dispel myths and misconceptions revolving around it. This helps in understanding the risks more clearly and reduces anxiety.   
  
Dr Sameer Pagad, senior consultant, cardiologist, Global Hospitals Parel, Mumbai adds, "I have observed a gradually increasing trend in the number of people suffering from a heart attack which also includes young individuals. It is indeed concerning. However, the only way to deal with this is to truly understand the factors that increase one's risk of heart attack and take steps in the right direction instead of giving into the fear of succumbing to a heart attack." 
  
Both Wani and Pagad suggest effective ways to deal with fear  
  
Educate yourself
Learn about heart health. Know the lifestyle habits that can benefit and harm your heart. Understand the symptoms of a heart attack or cardiac arrest. Learn about your health as well as your family's health history. The more you stay informed, the better you will be able to calm yourself down with a pragmatic approach as well as be prepared to deal with a health emergency.    
  
Take regular health check-ups
Sometimes most people don't show any immediate symptoms of a heart attack. This makes it extremely important for everyone to take regular health check-ups. Doing so will help one recognise the possible health risks and the need for necessary lifestyle changes that can further help in preventing a medical emergency.  
"Exciting news! Mid-day is now on WhatsApp Channels
Subscribe today by clicking the link and stay updated with the latest news!"
Click here!