With the Lakme Fashion Week dishing enchanting looks, Mid-day Online spoke to beauty experts Alina Hasan Rizvi and Diksha Sachdev on whipping up a sassy Rhinestone eye make-up to nail that party look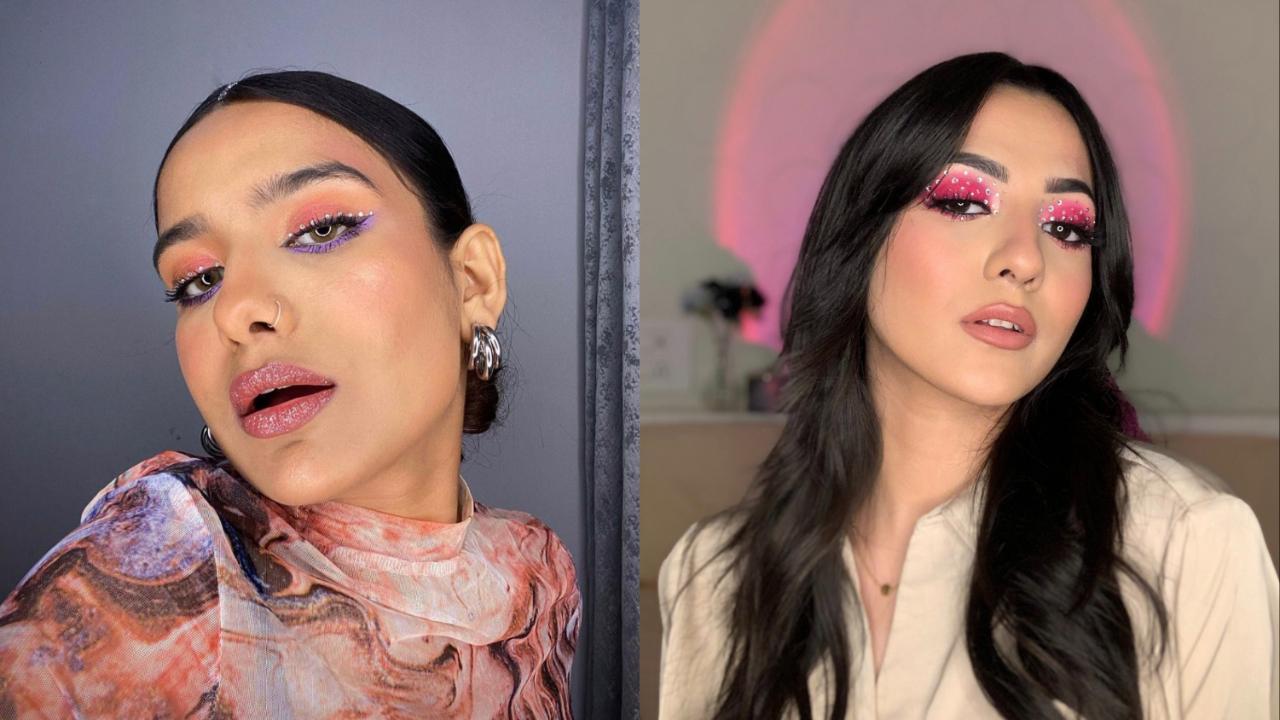 Turn heads with easy DIY tips on Rhinestone eye make-up look. Photo courtesy: Bhavika Valecha
Combining forces of fashion and beauty fireballs from India is the latest edition of Lakme Fashion Week 2023. The four-day event is a collaboration between the beauty brand Lakme and Fashion Design Council of India (FDCI). A non-profit organisation, FDCI is the apex body of fashion design in India, committed to 'Make in India' label.
Back at the ramp, be it the red gown donned by Sobhita Dhulipala, the rad violet jumpsuit carried by Shilpa Shetty or the mid riff rocked by the pregnant Antara Marwah, the event is a star-studded affair dishing head-turning look. The models walked the ramp for the finest designers from the country like Tarun Tahiliani, Anushree Reddy, Arpita Mehta, Siddhartha Bansal and many more.
ADVERTISEMENT
With the fashion week rolling out enchanting looks, Mid-day Online spoke to beauty experts Alina Hasan Rizvi and Diksha Sachdev on whipping up a sassy Rhinestone eye make-up look. Alina believes that finding unique ways to wear crystals, diamonds, and rhinestones all over your face has become a daring beauty trend that is already sweeping the fashion industry with its dazzle.
Add a touch of elegance and an oomph factor to your look without putting in a lot of effort. Here is a step-by-step tutorial for creating the effortless Rhinestone eye make-up:
Euphoria by Alina Hasan Rizvi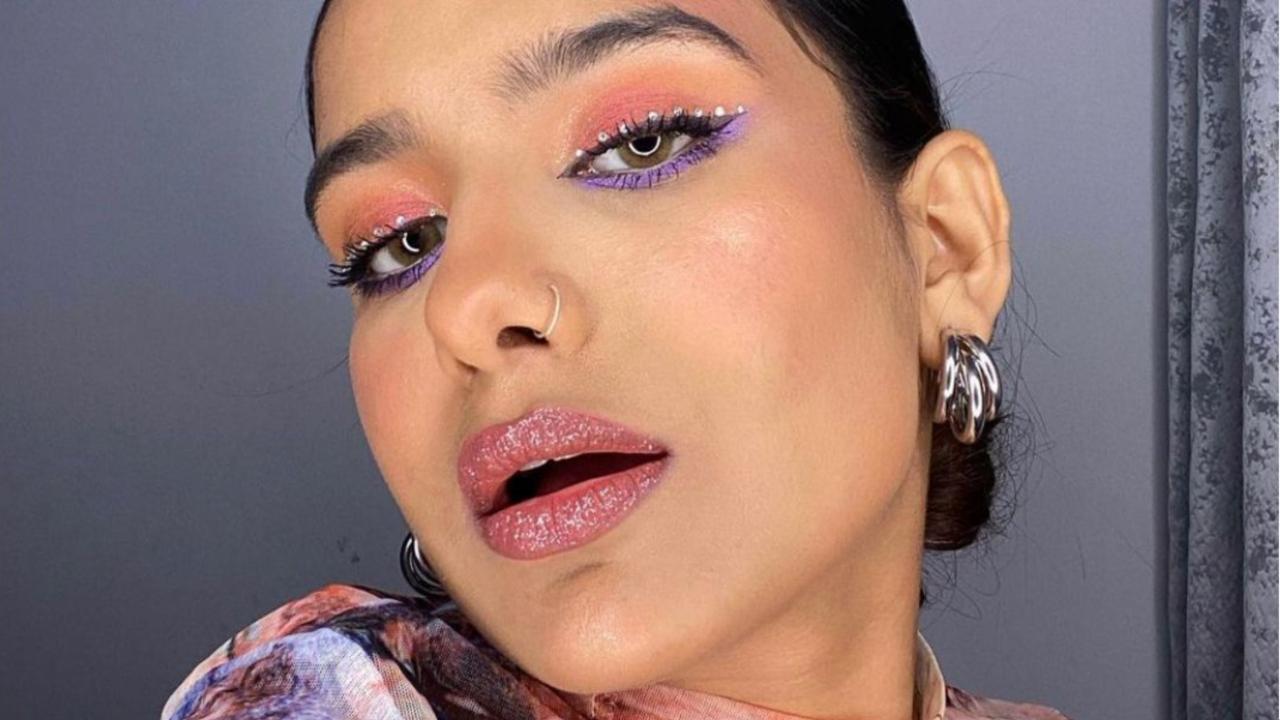 Alina Hasan Rizvi is a beauty content creator from India. Photo Courtesy: Bhavika Valecha
1. Apply any eye primer or lighter shade of concealer to your eyelids. This will ensure a good background for your eye makeup so that the colours of your eye shadow stands out when you apply it.
2. Use a fluffy brush to blend any light colour that will serve as your transition shade into your crease, such as light pink or yellow, to give your eyes a little depth.
3. Apply any shimmer or metallic shade on your lids. The best way to apply a shimmer is with your fingertips to attain the best pigmentation results.
4. Bring the colours to the lower lash line.
5. With a pointed brush, apply a purple gradient to the bottom lash line. This will give the appearance an additional degree of depth and make a lovely backdrop for the eye gems.
6. Create a nice wing liner which will also act like a guide line for you to apply the rhinestones above.
7. To pick up and position the stones effortlessly, all you need is a clear lash glue and a wax pencil. If you don't have a wax pencil, you can also use the back of any thin brush, add some glue, and let it dry. This will make it much easier for you to pick and position the rhinestones.
8. Place small dots of glue above your liner where you want the rhinestones to go. Wait at least 3 to 4 seconds for the glue to slightly dry so that it will be more adherent.
9. Place the rhinestones one at a time, working your way from the inner corner to the winged tip. You can have fun with placement, size, and spacing to get creative.
10. Pro tip: Use rhinestones of various sizes, positioning the larger ones in the centre of the lid and the smaller ones in the corners.
11. Use some mascara to complete the look.
Rave Glam by Diksha Sachdev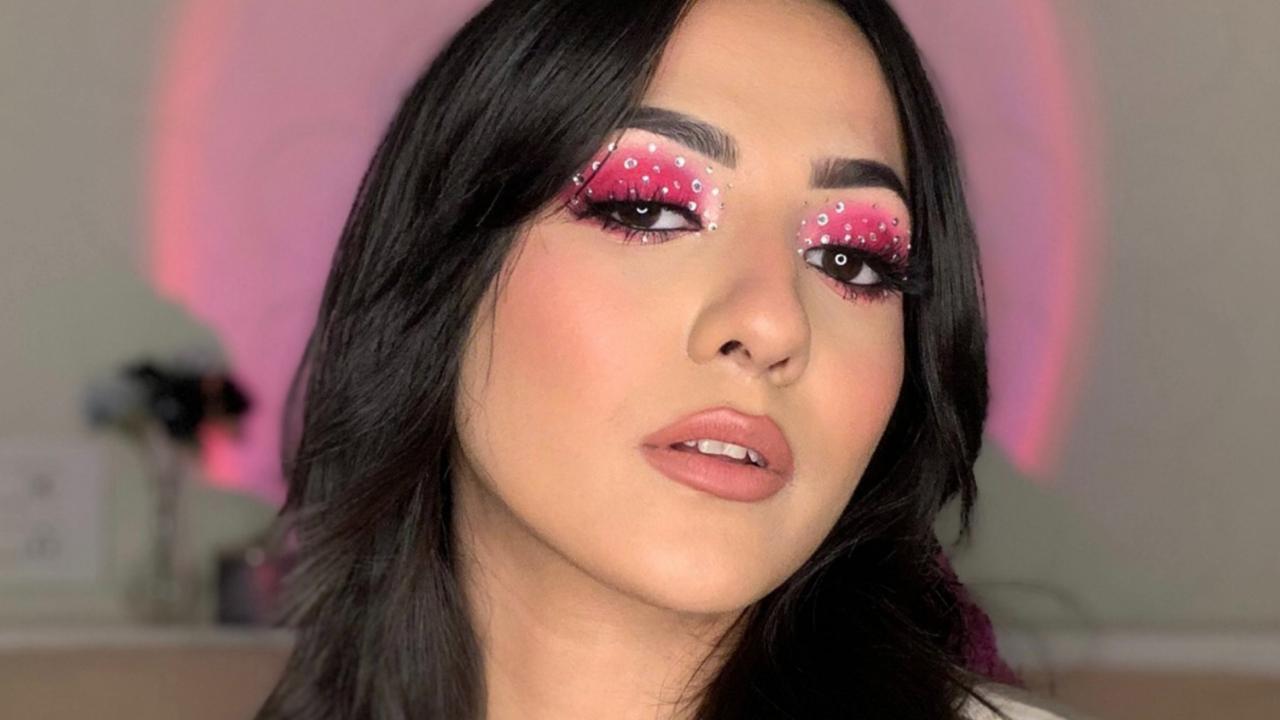 Diksha Sachdev is a professional make-up artist from India. Photo Courtesy: Bhavika Valecha
1. Lay down a fuchsia pink eyeshadow evenly all over both the eyelids.
2. Blend the edges out with a lighter pink shadow. You can wear any colour that goes with your attire or vibe.
3. Once the base is ready, we proceed to the most crucial part: Applying rhinestones. Make sure that you have different sized rhinestones, a wax or white kajal pencil, and some lash glue.
4. Apply the lash glue to the flat side of the rhinestone, pick it up with a wax pencil and apply it randomly, one by one all over the eyelid.
5. Use a clear lash glue so that the colour doesn't peek through the stone.
6. Use different sizes of stones to give it a defined look.
7. Be patient throughout the process as it is slightly tedious to stick multiple stones one by one.
8. Pro tip: Finish off the look with some black kohl and lashes and your rhinestone gem make-up is ready!
Read More: Sayani Gupta Walks For Jajaabor At Lakme Fashion Week